Simon Smith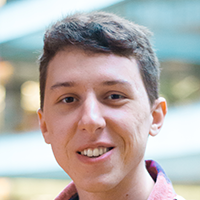 Staff
Wisconsin Institute for Discovery
B1142
Discovery Building,
330 N. Orchard Street
spsmith5@wisc.edu
EDUCATION

BA, Computer Science, University of Wisconsin–Madison

Simon Smith has been a Madison resident for the past 11 years. He received his B.A. in Computer Science from the University of Wisconsin - Madison, along with a certificate in Digital Studies. He likes to use programming to automate and improve existing tasks wherever possible. He has done research on consumer preferences using Amazon reviews, and is currently working on projects involving 3D scanning and virtual reality navigation. In his spare time he dabbles in music and art of all varieties.