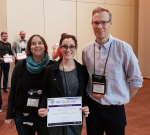 Our paper "Mapping color to meaning in colormap data visualizations" was awarded  honorable mention for Best Paper at InfoVis 2018!
In the photo: Petra Isenberg (InfoVis Paper Chair), Karen Schloss, Tim Dwyer (InfoVis Paper Chair).
Co-authors not in the photo: Connor Gramazio, A. Taylor Silverman, Madeline Parker, and Audrey Wang.